Vegetables Buy Online to color and flavor your dishes!
Colorful offerings of marinated vegetables such as, artichoke hearts, roasted red peppers or salty olives in oils or vinegars, perfect addition to any antipasto!
Buy Italian Vegetables now!
Order Italian Vegetables
These products are ideal for corporate gifts. The minimum order is 50 pieces, available in 10 working days. Ask for a quotation: info@italiaregina.it
Vegetables could be used as little and fast appetizer, for flavour ready-made rice recipes or for create different type of cream to spread on the slices of bread when there's nothing in the fridge!
As vegetable appetizer we could have Capers, sun-dried tomatoes or stuffed chili peppers; or we could have many different creams made by mushroom,chili pepper, zucchini and olives.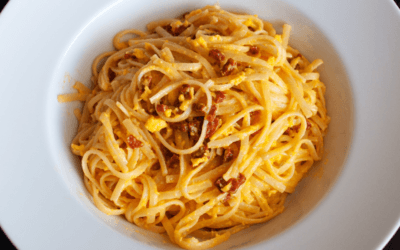 Carbonara linguine represent a simple and not very elaborate first course. The recipe lard makes the dish more tasty and a crunchy. Carbonara is an Italian staple born in the city of Rome. The recipe also works well with other pasta types shapes such as tagliatelle,...