Food Hampers Buy Online
Let's create the perfect food hamper for your needs: it is very simple.
Select the box you like in this category and then choose from the shop the products you want to fill in: we will pack for you your ideal basket and we will ship to your home or to the address you'll choose.
You can create a "spicy" or "gluten free" food hamper or one for a pasta lover.
You can also add a greeting card in which we will print your personal message (you can tell the message in the cart note) and and attractive and eye-catching shred to fill the hampers and protect the products
Buy Italian Food Hampers now!
Order Italian Food Hampers
These products are ideal for corporate gifts. The minimum order is 50 pieces, available in 10 working days. Ask for a quotation: info@italiaregina.it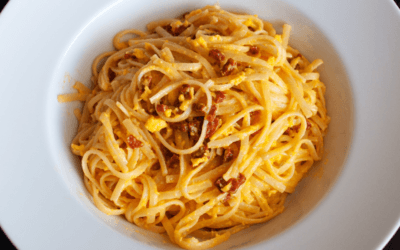 Carbonara linguine represent a simple and not very elaborate first course. The recipe lard makes the dish more tasty and a crunchy. Carbonara is an Italian staple born in the city of Rome. The recipe also works well with other pasta types shapes such as tagliatelle,...