Egg Pasta buy online: the Italian tradition!
Egg pasta is a type of pasta in which fresh eggs are used in the preparation of the dough.
Egg pasta is also called "fresh pasta" because it was once prepared at home (and some still love doing it) to be consumed at the moment. The composition of fresh pasta varies considerably because the recipes are handed down from the tradition that also changes within the same regions: often it is family recipes.
The basic composition of the dough includes wheat flour and eggs.
The ratio is one egg every hundred grams of flour, but the number of eggs can be increased, using the egg yolks alone; or, you can replace some or all eggs with an equal volume of water.
Among the ingredients can be the oil, on the average one spoon every 200 g of flour, to make the dough more tasty and smooth, wine, butter, corn flour and more. And to give it more flavor, sometimes a little salt is added to the flour, which, however, must be really contained, considering that the cooking water is already salty.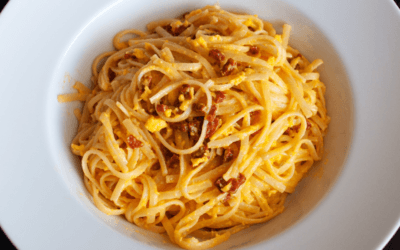 Carbonara linguine represent a simple and not very elaborate first course. The recipe lard makes the dish more tasty and a crunchy. Carbonara is an Italian staple born in the city of Rome. The recipe also works well with other pasta types shapes such as tagliatelle,...