CURRENTLY OUT OF STOCK – WILL BE BACK BY NOVEMBER
Pandoro buy online to make your Christmas holidays special and sweet!
Pandoro is an Italian sweet typical of the pastry tradition of the city of Verona, in Veneto. It is known for its sweetness, its soft consistency and the star shape, sprinkled with icing sugar.
If Panettone is the Christmas cake of Milan, Pandoro is the typical cake of Verona. It is traditionally shaped like a frustum with an 8 pointed star section. To resemble the snowy peaks of the Italian Alps during Christmas, it is usually served dusted with vanilla scented icing sugar.
When you buy a Pandoro, you normally receive it with a sachet of powdered sugar that you can add just before eating the cake.
The first person who spoke about a cake similar to Pandoro was Pliny the elder, in the ancient Roman times of the 1st century.
Probably the recipe derives from the one of the "Pan d'oro", that literally means golden bread, that was served around the XIII century on the tables of the nobles from Venice.
Anyways, the modern recipe dates back to the XIX century. In 1894, on October the 14th, Domenico Melegatti, deposited to the office a patent for the production of this sweet, soft cake with the characteristic form we have now. It was Angelo Dall'Oca Bianca, an impressionist painter, who invented this form with the 8 pointed star section.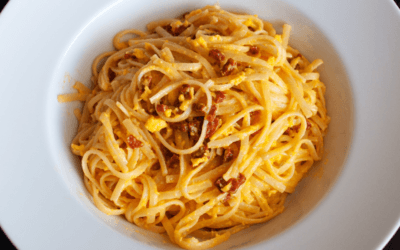 Carbonara linguine represent a simple and not very elaborate first course. The recipe lard makes the dish more tasty and a crunchy. Carbonara is an Italian staple born in the city of Rome. The recipe also works well with other pasta types shapes such as tagliatelle,...