We deliver in Europe in 4 days
Extra virgin olive oil is a typical ingredient of the Mediterranean diet, whose characteristics are scientifically recognized as essential for the growth of children and the well-being of adults….
Pasta & Rice for Restaurants
A staple in Italian cuisine, it is said that Italians eat over sixty pounds of pasta per person, each year!  When selecting the pairing of pasta and sauce, there is one general rule regarding compatibility. Allow Italia Regina to assist you with these choices! Choose from our vast selection of excellent 100% Italian products, that will bring the taste of the Italy straight to your table!
Discover Italian Pasta & Rice
The ancient origins of pasta can be traced back to the Neolithic age when man began cultivating and subsequently grinding cereals, kneading them with water, then baking and drying in the sun to keep them long.
Dry Pasta was first created in the Southern Island of Italy, named Sicily, in 1154. It was produced for long-term preservation, making it easy to transport to distant destinations. Subsequently, the pasta was transported to Liguria, on the west coast, where it then began being transported all around northern Italy.
To the aristocrats of Italy, pasta was considered a side dish, while for the less wealthy, it was a special meal. However, the severe famine in Naples in the 1600's, pasta, due to lack of other food, became a mass food and production and conservation techniques were thus improved. Further into the middle ages, a new method of boiling was also introduced, and new formats of pasta were created, including the first forked pasta.
From Italy, it was then exported all over the world.
Today pasta is the symbol of Italianicity excellence.
There are 10 most loved pasta recipes and pasta, as much as pizza and coffee, is a timeless tradition of Italian culture and tradition. There are over 300 different formats of pasta types and infinite tasty recipes, but also symbolic of the region where they are born....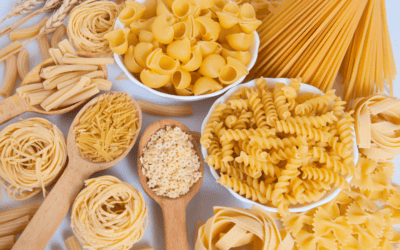 Out of 300 pasta shapes to choose from, Italians almost always choose 10 types in particular…
Rigatoni is a type of pasta born in Rome and belong to an all-Italian tradition this is one of the most loved and appreciated short pasta shapes from one end of Italy to the other, among the more than 300 types of pasta consumed on our tables…
Linguine is a type of pasta made of long durum wheat semolina. They belong to the same family of bavette and trenette….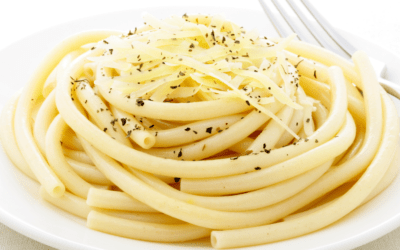 Bucatini is a type of pasta which shape was conceived for a practical reason, which over the centuries has become one of the most famous protagonists of Italian cuisine. The history of bucatini is rather nebulous and although many know and appreciate this pasta,...
Pappardelle are a type of pasta of the Tuscan homemade tradition, made of a mixture of flour, eggs and salt combined with art to form wide strips, rustic and rough to the touch…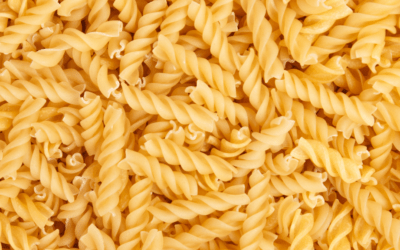 Fusilli are a type of pasta, originally from Campania. In Gragnano, to these days, they are made by hand, rolling spaghetti with a wire and then drying them…
Penne or pen are generally a type of pasta of cylindrical, tube-shaped pasta made from durum wheat flour…
Carbonara Day is celebrated – promoted by Union food pasta makers and by Ipo (International Pasta Organization) with the We Love Pasta website – which last year involved over 500 million people who they participated on…
Pizzoccheri Pasta are a type of pasta which is very fresh and its shape is made with a mixture of buckwheat flour, strong flour and water.The history of pizzoccheri takes us to Valtellina, to be precise to Teglio, a splendid village in the province of Sondrio. Teglio...
Many types of pasta exist and today we are going to talk about tagliatelle! According to legend, tagliatelle was invented in 1487 by Mastro Zafirano, on the occasion of the marriage of Lucrezia Borgia with the Duke of Ferrara. Allegedly the cook was inspired by the...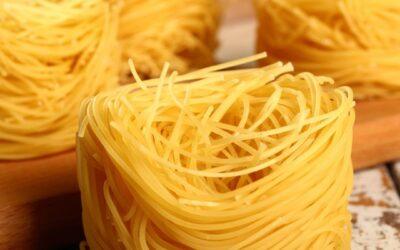 Tagliolini (also named Tajarin) are one of many fresh egg types of pasta from the Piedmontese culinary tradition widespread especially in the Langhe area. Long, thin, and of a deep yellow color due to the presence of abundant yolk, tagliolini are eaten with rich...
Seasonings for pasta are very important in order to add flavor...Many seasonings are used in Italian recipes and they usually are dried herbs and spices, sometimes even powder or vegetables like garlic. Photo Credit: PxHere Pasta is a classic Italian dish that is...
Senatore Cappelli pasta is made of ancient wheat which makes it full of better properties and nutritional values, plus it's totally organic.
Ingredients: 200 gr of Spaghetti Pasta 500 gr of clams 1 small fresh black truffle parsley 1 lemon 1 clove of garlic White wine 1 fresh chili oil truffle oil salt Preparation: First, put the clams in plenty of lightly salted cold water to expel the impurities...
Rice Salad is a unique dish typical of the summer season: perfect to prepare in the morning to find it ready to return from the beach. It is a fresh, light and personalized recipe with different ingredients according to one's taste, as long as they are...
Rice, characterized by a thousand-year history and from distant origins, with the years has managed to make its way into the Italian culinary tradition becoming a cornerstone of our diet, bringing Italian production worldwide THE CULTIVATION OF RICE:...
Pasta Alla Norma is a first course that contains the aromas and flavors of Sicily, an island in southern Italy. Pasta Alla Norma is one of the symbols of the Isolana cuisine, originally from the city of Catania and was created as a culinary tribute to the work...
Pesto Lasagne is a recipe that combines two typical dishes of Italian culinary tradition: fresh egg pasta and Ligurian pesto. The bechamel sauce is a must in this recipe, which with its velvety touch makes everything more creamy and harmonious. The lasagna with...
Mozzarella stuffed tomatoes are a unique dish made with tomatoes that are stuffed with a tasty filling of rice, basil, and parsley with a heart of Italian streamlined mozzarella to make them even more appetizing. they are a really simple but effective recipe...
Caprese Pasta, is a fresh and simple dish, which cheers the tables with taste and is appreciated by the whole family. Perfect for the summer during the hottest days, it reflects the Mediterranean flavors and colors of the flag of our peninsula. ...
Spaghetti Alla Puttanesca are a typical dish of the regions of Campania and Lazio, in southern Italy. Just a few minutes to prepare them and to get a really tasty result, with a touch of spicy given by the fresh chili.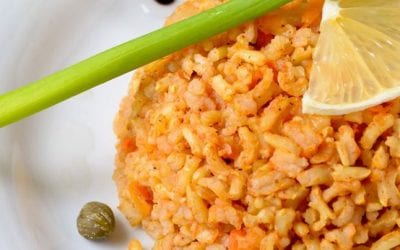 Pink Rice it's a quick and easy recipe to enjoy rice in an innovative and fun way. Brown rice, carrots, orange, scamorza, tuna and a few drops of Balsamic Vinegar: a few simple ingredients for an excellent result! Ingredients:  350 gr brown rice 1...
Risotto with Beetroot Juice is a recipe that combines sweetness, color, and acidity. The beetroot, known for its sweetness and its cheerful and intense color, is the star of this tasty and creamy first course. Different for both color and taste from the classic...
Truffle Risotto Ingredients: 320 gr of Carnaroli rice 10 gr of White truffle 750 gr of Meat Broth 50 gr of Parmigiano Reggiano cheese 50 gr of Butter Extra-virgin olive oil Black pepper and Salt Truffle Risotto...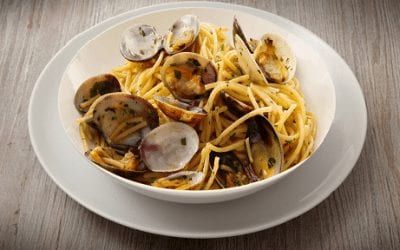 Spaghetti with Clams is one of the best known Campania pasta dishes, a simple recipe where the delicacy of clams meets the Italian pasta tradition for an awesome result.
Zucchini flowers Risotto is a light but very tasty first course, which is ideal during the spring and summer period.
Pasta & Peas is a fast and easy first course to make every day in any occasion. It can be considered a "save dinner" if you do not know what to cook, in a few minutes you will have a dish that will surprise everyone! Ingredients:...
Orecchiette Pasta with turnip peaks and chili peppers is an amazing first dish during the winter period. Orecchiette is a form of fresh pasta made from hard wheat flour, handmade, representing the gastronomic symbol of the Puglia region. The perfect condiment for the...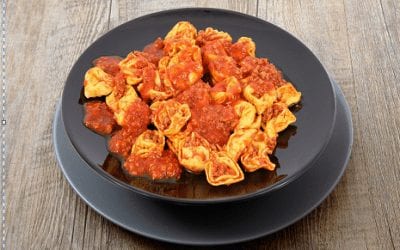 Ragù Tortellini mixes best two dishes of Italian culinary tradition: the Emilian tortellini and Bolognese ragù. Tortellini, both in broth and ragù, are a dish known all over the world: a thin dough of pasta that contains a filling of meat and parmesan for a first dish...
Spaghetti with Shrimp is a typical dish of Italian culinary tradition created with few ingredients and suitable for many occasions: a light and fast lunch, or a family dinner or friends. The perfect union between tomatoes, fresh shrimps and a pinch of chili pepper...
Pasta & Chickpeas is a typical dish of Campana, Apulian, Sicilian and Roman cuisine and has ancient origins. Chickpeas are always a great nutrition alternative to meat or fish. Chickpeas have always been a real salvation for the poor diet of the peasants who...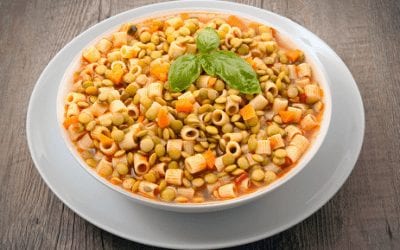 Pasta & Lentils is a typical dish cooked by grandmothers and handed down from generation to generation. It's perfect for the cold winter evenings. It may have a dense or more liquid texture and can be flavored for example with bacon, so it can be also liked by...
Pecorino and Pepper Manicotti Pasta is a typical dish, along with the carbonara pasta, of the tradition of the Lazio region. It is a simple recipe, created with only two ingredients: the creamy of Pecorino cheese and the decided taste of black pepper. ...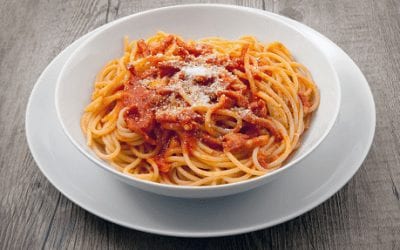 Hot Chilli Spaghetti a perfect union of three basic ingredients of Italian culinary tradition: pasta, tomato, and spicy chili. It is loved by those who like the decided and strong flavors! Ingredients: 320 g of Spaghetti pasta 400 g...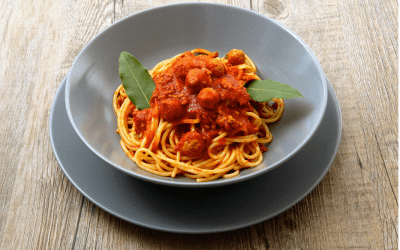 Spaghetti with Meatballs are a tasty and easy to prepare a dish, loved by all adults and children. if tomato spaghetti is one of the most popular dishes in the world, with the addition of the meatballs this dish will be even more special! ...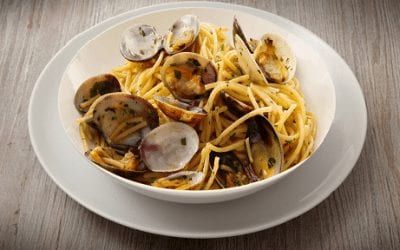 Spaghetti with Clams is a simple recipe with few ingredients but that will surprise your guests with a tasty sea flavor. You can use fresh clams (as in the recipe) or frozen. Ingredients: 320 g of Spaghetti Pasta 1 kg of Clams 1...
Zucchini flowers Risotto is a light but very tasty dish that enhances the delicate taste of zucchini flowers, ideal during the spring and summer period. To give a touch of extra color add saffron to the risotto. Ingredients: 900ml of...
Zucchini Risotto is a simple but tasty and genuine recipe. It's perfect for enjoying on a fresh spring day, and blended with creamy Pecorino cheese creates a perfect blend! Ingredients: 320 g Carnaroli Rice 350 g of Zucchini 1 l of...
Seafood Risotto is a fresh and genuine first course that enhances the quality of the fish chosen for the recipe. You can use either fresh or frozen fish, obviously, with fresh fish, the result will be even more amazing! Ingredients: 320 gr...