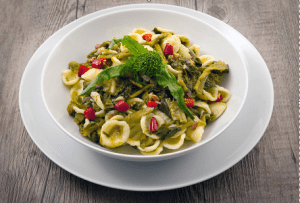 Orecchiette Pasta with turnip peaks and chili peppers is an amazing first dish during the winter period. Orecchiette is a form of fresh pasta made from hard wheat flour, handmade, representing the gastronomic symbol of the Puglia region. The perfect condiment for the Orecchiette is based on rapeseed, and with a pinch of fresh chili, you will be able to conquer all your guests.
Ingredients:
300 g of Orecchiette Pasta
400 g of turnip peaks already clean
1 garlic clove
1 fresh chili pepper
4 anchovies
Salt and pepper
Preparation:
Cook the turnip peaks in boiling and salted water for 5 minutes. Drain and hold the cooking water. Sprinkle garlic with 1 tablespoon of oil and anchovies; join the turnip peaks and cook them quickly. Cook the Orecchiette pasta in the cooking water; drain when it is ready and transfer them to the frying pan with the turnip peaks. Add pasta cooking water and mix all together.
When all is well-mixed, garnish with finely chopped fresh chili, salt and served.