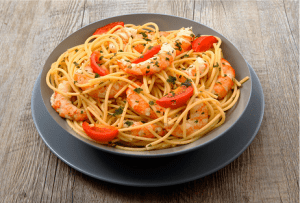 Spaghetti with Shrimp is a typical dish of Italian culinary tradition created with few ingredients and suitable for many occasions: a light and fast lunch, or a family dinner or friends. The perfect union between tomatoes, fresh shrimps and a pinch of chili pepper will create a unique flavor that will surprise everyone!
Ingredients:
400 g of Spaghetti pasta
500 g of tomatoes
300 g of shelled shrimp
1 garlic clove
1 onions 1
Salt and pepper
Parsley or chili pepper
Preparation:
To make spaghetti with shrimps, prepare a chopped onion and let it brown in a pot with oil, then add the garlic and the tomato which has been preheated, sown seeds and cut into cubes. When the tomato begins to consistency join the shrimp, put a pinch of salt and pepper and bake for about 10 minutes.
Meanwhile, cook the spaghetti in plenty of salted boiling water, drain them and transfer them to the pan together with the sauce to season them perfectly. Add fresh chopped parsley in a pan and cook it for a few seconds.
Serve the spaghetti with the shrimp with the addition of other chopped fresh parsley, a round of extra virgin olive oil and a black pepper grinder.