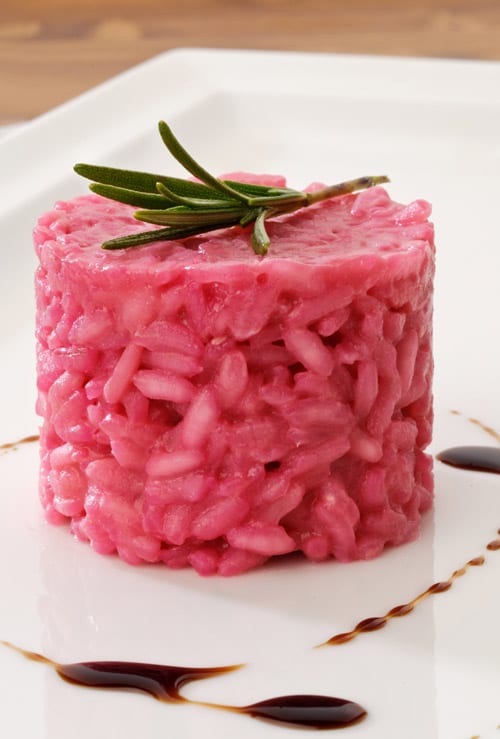 Risotto with Beetroot Juice is a recipe that combines sweetness, color, and acidity. The beetroot, known for its sweetness and its cheerful and intense color, is the star of this tasty and creamy first course. Different for both color and taste from the classic risotto, the Risotto with Beetroot will conquer even the most traditional palates. The result is a fresh dish perfect for the spring period, that brings joy to your the table. For an extra taste: add a sprig of rosemary and a few drops of balsamic vinegar!
Ingredients: 
240 gr of Carnaroli rice
200 gr of cooked beetroots
500 gr of Vegetable Broth
20 gr of White wine
60 gr of Parmigiano Reggiano cheese
50 gr of Butter
3 gr of rosemary sprigs
Preparation: 
At first, melt the butter with the rosemary in the bain-marie and set aside. Blend the beetroot puree until you get a liquid puree (add water if necessary), pass through a sieve and reserve the juice.
Toast the rice in a pan with little oil, add the wine, let it evaporate and cover with the vegetable broth. After a few minutes, add the beetroot juice and cook until tender. Turn off the heat and add the rosemary flavored butter with rosemary (strain the sprigs), grated Parmesan cheese, salt, and pepper.
Let it sit with a lid for a couple of minutes. In this way, you will get a better result and a more balanced risotto.
Complete the dish with balsamic vinegar to taste and a sprig of rosemary!
Chef recipe: Rino Duca of "Grano di Pepe"
Credits photo: www.bellei.it