This saffron and mushrooms gnocchi recipe is delicious and very quick to make. Gnocchi are an ancient food invented in Veneto initially prepared with various types of flours (wheat, rice) or even with dry bread or breadcrumb, sometimes vegetables of various types were then added which changed their color.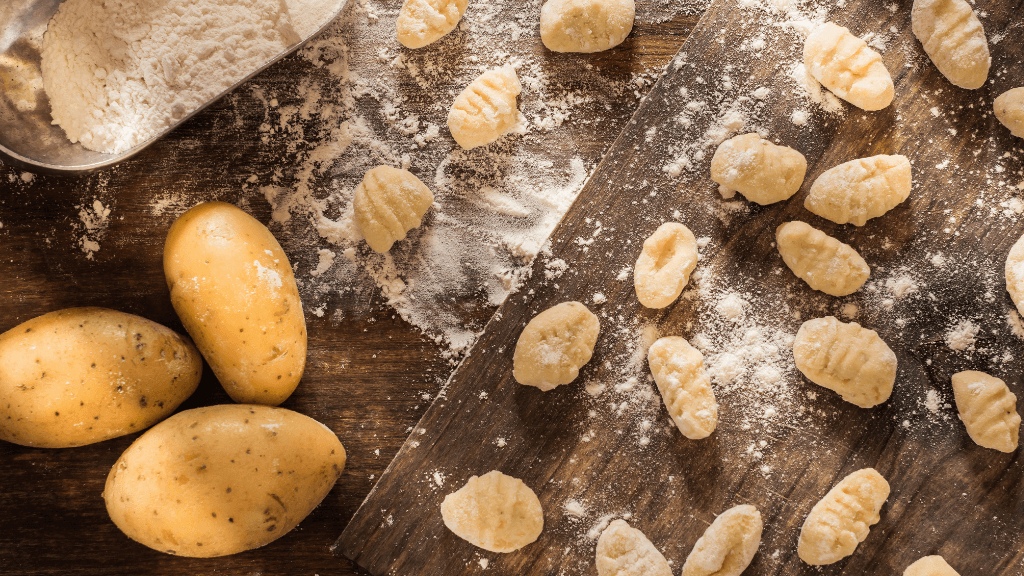 Ingredients
500 grams of durum wheat semolina flour
250 ml of warm water
1 teaspoon of whole salt
1 tablespoon of chopped parsley
500 gr of fresh mixed mushrooms
1 clove of garlic
30 gr of saffron powder
Salt and Pepper
The Making
Mix the parsley with the flour and arrange it in a heap on a pastry board. Start kneading by pouring the water in the center. Once all the water has been poured, it will be possible to work the dough with your hands for about 10-15 minutes. Wrap the dough in cling film and let it rest in a dry place for 30 minutes.
While the pasta for the gnocchi rests, clean the mushrooms, cut them into slices, and brown them in a pan with a drizzle of extra virgin olive oil, a clove of crushed garlic, salt, and pepper.
If necessary, add a little water to make cooking easier. Divide the dough into 1 cm diameter cylinders and cut them into small pieces forming the gnocchi.
Arrange the gnocchi on a floured surface and keep them covered with a cloth to prevent them from drying out. Dip the gnocchi in plenty of boiled water and cook until they come to the surface.
Drain them and set aside a little cooking water in which you will dissolve the saffron powder. Season the gnocchi by tossing them briefly in the pan together with the mushrooms and saffron. Remove the crushed garlic clove before serving.
Taste Italian Gnocchi, Saffron & Mushrooms: Buy Now!