Parma city is located in the Northern part of the region Emilia-Romagna.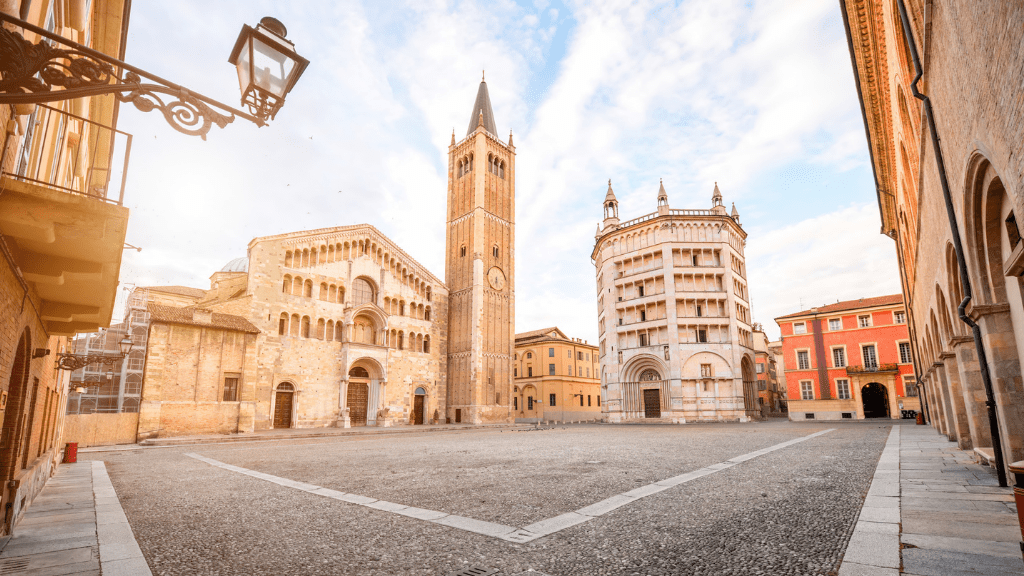 What to See in Parma
Parma's downtown is full of  thing to see: from art masterpieces, wide green spaces to little and big treasures from different ages…The presence of music in the history of the city is recognized worldwide; therfore it has deserved a relevant position among the capitals of music. The gastronomic tradition is also very remarkable, offering, besides cold cuts and cheese which are famous all over the world, first courses of homemade pasta cooked in different ways.
The Gastronomy in Parma
The star of the Parmesan gastronomy is the pork from which Prosciutto di Parma PDO is made, but also Parmigiano Reggiano cheese PDO, Culatello of Zibello PDO, Salame Felino PGI, Spalla Cotta of San Secondo and the delicious Porcino Mushroom PGI. First courses are also typical, such as cappelletti or anolini cooked in broth, homemade pasta stuffed with stew cooked as well in broth and served most of all during Christmas time. Among the main courses there is stew, cooked slowly and for a long time in beef's broth.
About the City
The historical centre of Parma is divided into three big parts: Piazza Duomo is where the highest artistic and religious expressions of the city stand, such as the Cathedral dedicated to the Assumption and xthe Baptistery, a symbol of the passage from the late Romanic to Gothic, made of pink marble from Verona.
Piazza Garibaldi, that was in part the site of the Roman forum. There is also the Governor's palace, which houses the bell of the high civic tower collapsed in 1606, the crowned Virgin in the niche of the bell tower and the two sun-dials dating back to 1829.
Finally, Piazza della Pilotta, now Piazzale della Pace, is the symbol of ducal power with the Monumental Pilotta palace, ancient palace of the court and state services belonging to the Farnese family. The rooms host the Archaeological Museum, the beautiful Palatina Library, the National Gallery and the Farnese Theatre and the courtyard is the scenery of a festival with shows and concerts every summer.
https://emiliaromagnaturismo.it/en/towns/parma
Taste Italian Food: Buy Now!