Mushrooms Buy Online to create amazing first course or to spread on croutons as appetizers!
We can use Mushrooms to prepare many recipes, as the famous mushroom risotto. Mushrooms are both an ingredient to season the first courses and to enrich the seconds courses or the contours.
Mushrooms are rich inf carbohydrates, proteins, mineral salts and vitamins.
The origins of Mushrooms are very ancient; Mushrooms, were viewed as a source of livelihood for rural mountain people, and they have been known and collected since old times.
In Prehistory, Mushrooms were used not only as food but, according to some finds, they were used to ignite the fire and as medicines. It was during the period of ancient Greece that mushrooms became increasingly important in civilizations, in fact they were considered a symbol of life. During the Roman empire, things changed radically and mushrooms gradually became a symbol of death. In the past they have aroused the fantasy of men, who have considered them as magical nature product and they become protagonists of popular beliefs and legends
Nowadays Mushrooms are considered wonderful and tasty fruits of the woods, suitable for many recipes.
This saffron and mushrooms gnocchi recipe is delicious and very quick to make. Gnocchi are an ancient food invented in Veneto initially prepared with various types of flours (wheat, rice) or even with dry bread or breadcrumb, sometimes vegetables of various types were...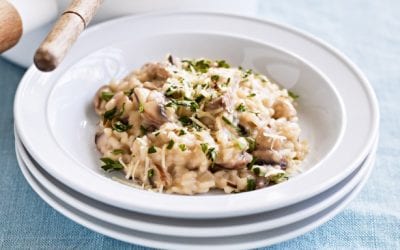 Porcini Mushrooms Risotto presses all the right buttons, with intense porcini mushrooms and plump arborio rice. Risotto is a north Italian rice dish cooked in a broth to a creamy consistency. The broth can be derived from meat, fish, or vegetable. Many types of...