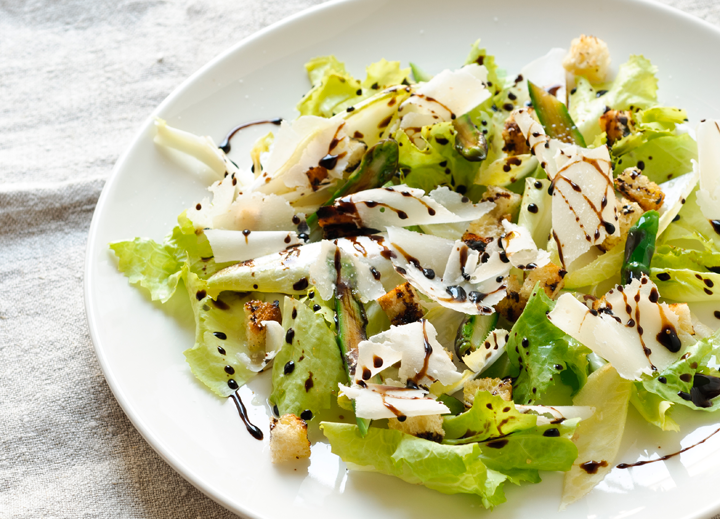 Spring Caesar Salad is a recipe to prepare for the hottest days and when you do not have much time to cook.
The Caesar salad is a salad now famous all over the world, designed for the first time by the Italian chef Cesare Cardini, who emigrated to the United States.
Spring Caesar Salad is a perfect blend of typical Italian flavors such as Parmesan, Romaine lettuce and extra virgin olive oil and American flavors such as Worcestershire sauce. In this variant, are added baby asparagus to give a taste and an extra freshness!
Ingredients: 
1 bunch of Belgian endive
60 gr of toasted bread cubes
1 bunch of curly endive
40 gr of finely chopped Parmigiano Reggiano DOP Cheese
2 tablespoons of Bellei balsamic vinegar
100 gr of baby asparagus
Salt pepper
Worchester sauce
Preparation: 
Blanch the rinsed baby asparagus in a pan with boiling water for a minute Drain and set aside.
Peel and pat dry the salad and pluck the leaves, lay it in a serving dish, add the croutons, Parmesan cheese, and the baby asparagus.
Dress with a generous sprinkle of balsamic vinegar, olive oil, Worcester sauce, salt, and pepper.
Chef recipe: Rino Duca of "Grano di Pepe"
Credits photo: www.bellei.it