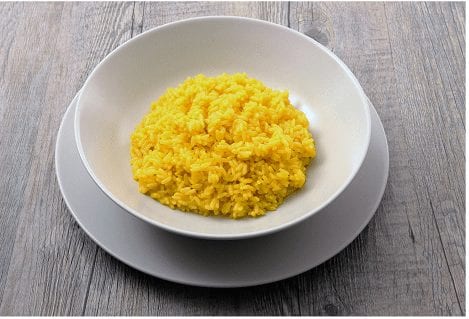 Milanese Risotto (or Saffron Risotto) is a north Italian rice dish cooked in a broth to a creamy consistency. The broth can be derived from meat, fish, or vegetable. Many types of risotto contain butter, wine, and onion. It is one of the most common ways of cooking rice in Italy. Risotto alla Milanese is a specialty of Milan, made with beef stock, beef bone marrow, lard (instead of butter) and cheese, flavored and colored with saffron. Properly cooked risotto is rich and creamy but still with some resistance or bite. It is easily made, this will become a staple in your Italian cooking.
Ingredients:
Preparation:
Bring the stock and saffron just to a boil in a medium saucepan over high heat. Reduce heat and hold at a gentle simmer. Heat oil and half the butter in a large saucepan over medium heat. Cook the onion and garlic, stirring, for 5 minutes or until soft and translucent.
Add the rice and cook, stirring, for 2-3 minutes or until the grains appear slightly glassy. Toasting the grains ensures the rice cooks evenly. Add wine and cook, stirring, until liquid is absorbed. Add 1 ladleful (about 125ml/1/2 cup) of stock and stir until liquid is absorbed. Add stock, 1 ladleful at a time. Stir until liquid is absorbed before adding the next. Continue for 20 minutes or until rice is tender yet firm to the bite. Remove from heat. Stir in shredded parmesan and remaining butter. Season. Divide between serving bowls. Top with grated parmesan.