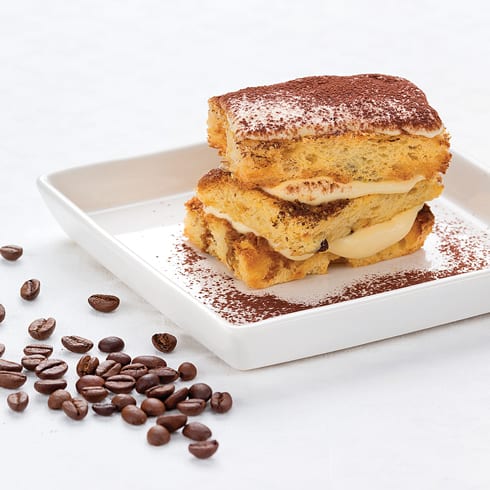 Tiramisù with Panettone is a popular coffee-flavored Italian dessert. Tiramisù (meaning "pick me up") and it is made of ladyfingers dipped in coffee, layered with a whipped mixture of eggs, sugar, and mascarpone cheese, flavored with cocoa. The recipe has been adapted into many varieties of cakes and other desserts. Its origins are often disputed among Italian regions such as; Veneto, Friuli Venezia Giulia, Piedmont, and others.
Ingredients:
300 g of Panettone
100 g of mascarpone
80 g of sugar
2 egg yolks
one dl of whipped cream
2 cups of espresso coffee
bitter powdered cocoa
Preparation:
Beat the egg yolks with two tablespoons of sugar, until they are white and frothy; add mascarpone to obtain a soft cream. Whip the cream with the remaining sugar and gently add it to the beaten egg.
Cut the panettone into slices a little over a centimeter thick and cut those into twelve rectangular pieces measuring about 8×5 cm. Bake them in an oven at 180°C for 5 minutes, to toast the slices slightly.
Place a panettone rectangle on a dessert plate, soak it with coffee and cover it with a layer of cream. Add two more rectangles, also soaked in coffee and covered with the cream. Cover the surface with bitter cocoa, sprinkled through a sieve.
In the same manner, prepare the other three portions and keep them in a fridge for at least 8 hours before serving the tiramisù.