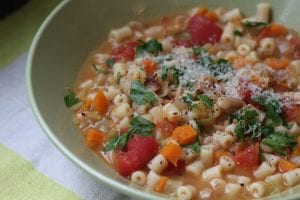 Pasta & Beans is more of a soup, prepared with different variations throughout Italy, where it spread immediately after the import of the first beans from the Americas, where they were one of the three pillars of native diets, together with maize and squash. At first a typical dish of the Italian peasantry, who could prepare a nutritious meal with very cheap ingredients, over time it has become a traditional dish that can now be found in Italian restaurants all around the world. The name comes from a variation of the name "beans", which in some dialects of the south becomes fagiul, and became famous thanks to Dean Martin, who in That's Amore sang "When the stars make you drool just like pasta fazool, that's amore."
Ingredients:
320 g of Ditalini Rigati Pasta
200 g of dried Borlotti beans
250 g of tomato paste
80 g of Prosciutto Crudo di Parma
30 g of onions, celery, and carrots
1 garlic clove
2 sprigs of rosemary
2 laurel leaves
Salt and pepper
Preparation:
First, let the dried beans soak overnight. The next day rinses them, put them in a pot with plenty of cold water and 2 laurel leaves and cook for about 80 minutes.
Meanwhile, prepare the other ingredients for the recipe: finely chop the onion, celery, and carrot, then cut the ham into a listener. Heat the oil in a saucepan, add a clove of garlic and chopped vegetables and fry for about 5 minutes, then add the ham and cook again for a couple of minutes. Take the beans and add them to the sauce. Now pour the tomato sauce, salt, and pepper, and cook for 20 minutes in moderate flame, then add the pasta.
Before adding pasta, take two ladles out of the mixture and whisk them creating a cream. Add the pasta directly to the pot, cover with the bean cooking water and bring the baking pasta stirring from time to time. When the pasta is ready, add the shredded mixture previously and chopped rosemary, then turn off the fire, cover with the lid and let it rest for 3 minutes.
If you want you can add Prosciutto Crudo di Parma and lard to the sauté.